Innovative Elderly Support Company Celebrates 5th Birthday!!
08/12/20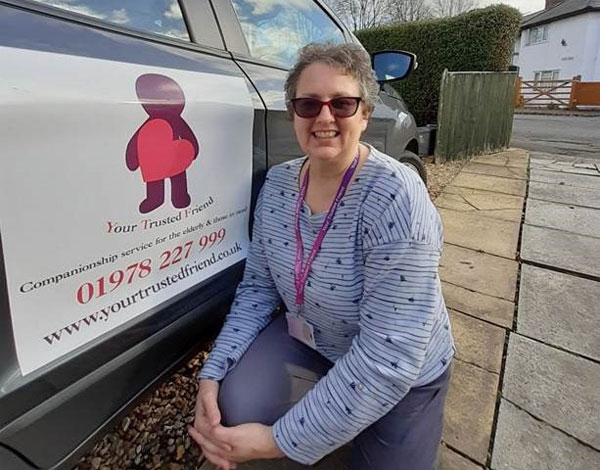 Your Trusted Friend provides vital support for the elderly and those in need
Work alongside Social services, the British Red Cross, Age Connects Wales and North East Wales Carers Information Service (NEWCIS)
Received two awards from UnLtd for providing "solutions that change our society for the better"
Continued essential support during the Covid-19 pandemic
"The UK is undergoing a demographic shift, with potentially far-reaching consequences for society, the economy and public service provision. A vastly improved life expectancy, one of the great triumphs of the last century, looks set to be one of the great challenges of this one.
By 2020, 12.5 million people will be over the age of 65. Existing health and social care systems are already struggling to cope. We are starting to understand how this challenge will affect our ageing population.
We want to make the UK the best place to grow old. Over one million people in later life say they always or often feel lonely." (UnLtd)
Your Trusted Friend has been providing solutions to these challenges since its inception five years ago. Formed after the illness of a close personal friend - who required "help with the little things and to get out of the house" - it has developed into a thriving and award-winning assistance company supporting elderly individuals in three Welsh counties.
Offering services ranging from going to the doctors, basic companionship, visits to friends and family or even help walking the dog, each client is provided with a flexible and individually tailored plan.
The established team of Trusted Friends, who have previous experience as nurses, business owners, legal professionals and 'friends', give us a variety of options to provide exactly what each individual needs.
"It has been a great pleasure to support Your Trusted Friend over the past year. I have found Cathy and the team to be professional, open to work in partnership, ambitious for growing and developing their social enterprise, and so caring and supportive of their clients. Happy 5th birthday and I look forward to continuing working together."
Jacqui Cross, Business Advisor, Social Business Wales
Also recommended by the British Red Cross, there's plenty of case studies for reassurance on the website, as well as a statement about the extra precautions taken since the outbreak of Covid-19.
While these are incredibly challenging times for everybody, the elderly who live alone are perhaps the most vulnerable in society at the moment. Your Trusted Friend aims to help them "keep control, independence, and dignity".
"We are delighted to help Cathy - founder of Your Trusted Friend - who has been able to provide vital support to more vulnerable members of the community during the pandemic. Cathy's commitment shines through and we wish her and her team all the best over the coming months."
Jane Ryall (UnLtd)
Your Trusted Friend offer their services across Wrexham and Flintshire in North Wales. They are developing their coverage wherever there is a need and starting to include Denbighshire within this vision and further afield if demand presents itself.
They believe that everyone, no matter what their circumstances, age or individual needs are, deserve help and support. They endeavour to alleviate isolation and loneliness. No-one should be left to feel alone. They believe that the elder generation should have the right to all this and to receive help to remain within their own homes, should that be their wish and desire.
This bespoke service they provide is driven by the belief and passion they have as Trusted Friends.
If you have a passion to help people, they want to hear from you. To those who require a little bit of assistance or support, they would very much like to help, their bespoke service is available to any adult.
Thank you for taking the time to read and I wish you a much better year in 2021!