Request A Friend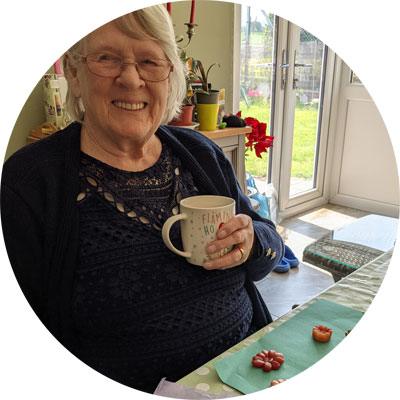 Our Befriending services are available in Wrexham, Flintshire & Denbighshire. Based on your individual needs this will likely involve someone from our team of Trusted Friends visiting you in your home, perhaps for a cup of tea and a chat, or accompanying them to an activity (such as a trip to a cafe or to the shops). In some cases, Your Trusted Friend can accompany you to occasional hospital or doctor's appointments.
Befriending - Vital companionship to help with a crossword, jigsaw puzzle, or just have a chat and a cup of tea
Telephone call assurance - Calls when requested, checking in, providing a level of comfort and support
Morning checks - Shorter visit check-ins as requested ensuring you have everything you require for that day
Appointments - Driving to any hospital/medical appointments, staying with you and taking you home safely
Visit family or friends - Driving to visit any friends or family
Walks / trips out - Company on leisurely walks or days out
Food / personal shopping - Help with shopping and unpacking
Group outing - Arrange a group outing to a chosen setting either by you or other clients
Luncheon clubs - We will take you to preferred clubs or introduce you to them where you can meet others
Meal prep / cook a meal - Assistance with meal preparation / cooking a hot meal if required
Dog walking - Take your Dog for a walk, out in the car or to any necessary appointments
Testimonials
"We recently used Your Trusted Friend to help my Grandmother while my parents were on holiday. What a fantastic service they offer. Jackie was such a big help providing my Grandmother with support and company while the rest of the family were at work. I cannot recommend this service enough, such kind and friendly people, right from our first enquiry to their visits. Thank you so much for being so wonderful to my very special Granny, we will not hesitate to use you again in the future!"
Lisa
"Cathy and her team look after my Mum (93 yo) who has sadly lived on her own this last year. Cathy matched up Mum with the right 'friend' from the start. Mum loves her 'friend' and looks forward to every visit because there's always something to do with them around the place as well as go for a walk. Activity is the key and they help all of us keep Mum's brain whizzing round and interested in everything. During Covid they've been a life saver in getting Mum's shopping. For me, Cathy and Di are dead easy to talk with and keep the show on the road."
Gareth
"My 87-year-old mother lives independently. Since she started receiving visits twice a week from a caring lady named Steph, my mind is at ease. Although I live in Canada, Steph keeps me informed about her visits and follows through with any reasonable requests I have had up to now. I highly recommend My Trusted Friend to anyone who lives far away from their relatives and needs to ensure that their loved one is safe and well. My Trusted Friend offers care and support with compassion, expertise and empathy when needed."
Mick
"My husband suffered a severe stroke 7 years ago and is paralysed down his right side. A Trusted Friend comes to visit him once a week for a chat and (lots of laughs) and a cup of tea. My husband looks forward to their visit as it is a welcome change of face for him. Also if I go out for the day Cathy and Bryn; depending on which day it is, will come and provide company to my husband and make sure he has a lunch, a hot drink and on occasions an evening meal. It means I do not have to miss out on excursions as I have the reassurance that Cathy or Bryn will be there. Looking back I don't know how I would have coped without the support of Your Trusted Friend. Your Trusted Friend is a wonderful service and I have no hesitation in recommending them whatsoever."
Jayne
Prices
Prices are based on a competitive hourly rate. Additional charge of 45p per mile is added for any mileage undertaken during your booking.
Areas covered